When you fly first class internationally, it's a unique experience. It begins when you first arrive at the airport. I checked my bags, went through security, and arrived at my gate in about ten minutes, despite a rather crowded airport. Since I don't usually fly in this fashion, I got to the airport well over two hours early, but no matter! What can you find a stone's throw from your gate? Well the United Red Carpet Club Lounge of course! And while I'm not a member of said lounge, that hardly stands in the way when you're flying first class internationally. I walked in and handed the woman my ticket to verify I really deserved to be there and she greeted me with, "Oh! I was wondering when you were going to get here!" This is where I chose to dwell:
One thing I found upsetting about the lounge was the lack of free wifi, but luckily I've been saving a text message in my phone for over three years (and through four phones) with a username and password for the T-Mobile wifi (thanks Dad). But two hours is not enough to get knee deep in work and I was caught up on e-mail, so how is one to pass the time? Well, timezones worked out in my favor for once, because Brent was just getting home from the bars so we could play some magic. Four games and two bloody marys later, it was time to board. Yet another line that I get to walk to the front of. I'm not sure if I felt more like a celebrity or a disabled person. Maybe a disabled celebrity. I don't remember. Anyway, here's my seat small apartment: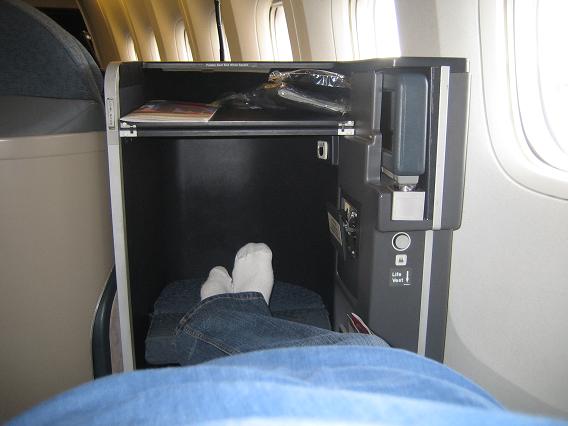 The only downside to being in the front of the boarding line is that you now have to wait in your seat while everybody else boards (and they're slooooow). I think we still took off on time though which in my experience is a nice change of pace. I think the last sentence should have had more commas, but I debated on whether to surround 'though' or 'which' or 'in my experience' or some combination of the three, so I just left them all out. Commas are overrated. Well that was off topic. Goodbye Seattle: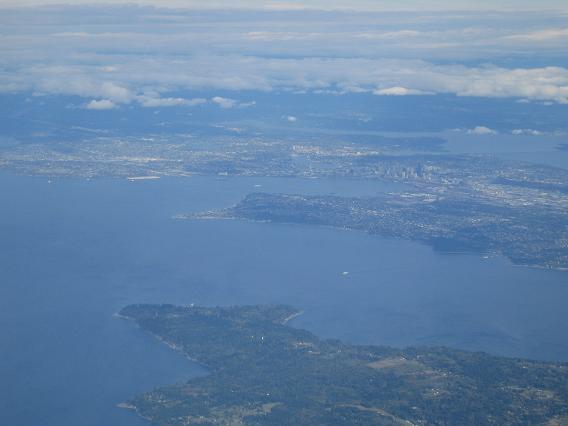 I think it's time to get to the number one benefit of first class international travel. Everything else is meaningless when compared to this. Of course, I speak of the fully reclining seats. That's right, they go completely horizontal. Have you ever put your seat back on a plane and thought, "Oops! That's too far back! I'll never fall asleep *this* flat!" Well, that's what I did. I actually had to bring it up a bit. Then I think I slept for awhile. Long enough for the guy in front of me to get halfway through Hancock. Then I was woken up for food:
I don't know what that is, but it had bacon and shrimp and it went pretty well with Ichiban. Beer covers my seafood allergy quite nicely. I skipped the roll and the salad and waited for the main course:
Round 2 was filet mignon and another Ichiban. They brought the dessert cart around shortly after, but I opted to save my wasteline every millimeter I could for the next three weeks of binge drinking. Everything up to this point I wrote on the plane. Now I'm at Brent's apartment and I forget what the rest of the flight was like. My next meal was this: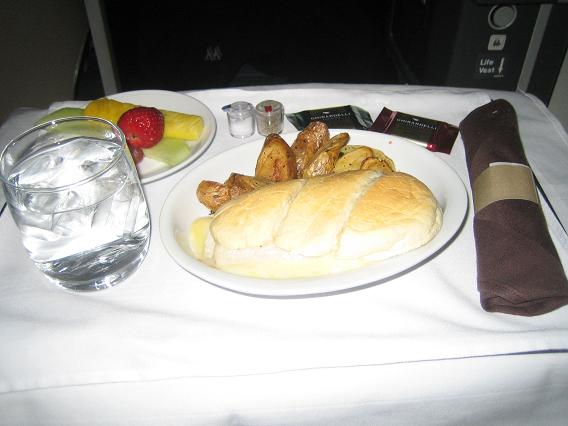 It was turkey sandwich with some kind melted cheese. It was pretty good. I think before I ate this I actually managed to sleep for like five hours. Much better than I usually do on planes. Hello Tokyo: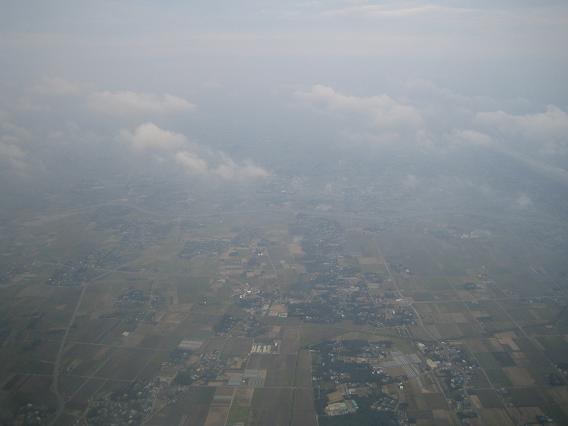 After my ten hour flight, I made my way through customs and got on a bus for the 90 minute ride to Shinjuku. Then a 20 minute cab ride and brief walk and I'm home:
This is the majority of Brent's apartment. There is also a small kitchen and bathroom, but that's about it. His bed looks comfy, huh? I'll post more pictures of his apartment and try to make this page look a little prettier, but since it's already Saturday here (and in America), I should stop for today. Sayonara!